Keep a Personal Development Journal
- it will help your personal growth and improvement

Does keeping a personal development journal sound too ambitious? Do you hate writing or does the word "journal" give you the creeps? It is possibly so because of what you associate with the word.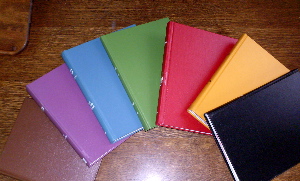 From now on, let´s think of a journal as something purely positive. It is indeed personal, because nobody else is ever going to read it. It is for your eyes only. Furthermore, as you begin to explore your thoughts, emotions,dreams and goals in life, you really do need a journal to record your ideas and thoughts about it. For more ideas, go to this page with an example of a personal development plan.

Accordingly, a personal development journal is nothing scary or complicated. It is a simple note book that you can make as elaborate or simple as you wish. An ordinary note book from anywhere will do, although some prefer to get a beautiful book with exclusive paper and glossy covers. In my experience however, if you make it that fancy, you tend to treat it too respectfully and might not use it on a daily basis at all. Worried to sort of mess up the "look and feel" of the journal. Only you know yourself in that respect. Just get a note book of any kind and use it!

How do I use a personal development journal?

The simple answer is: just write down anythingthat occupies your thoughts. Like a diary, really.
Be totally honest when writing. There is nobody to impress upon, nobody to fool either. So just keep to your innermost emotions and thought about what is going on in your life.
The purpose is to get it out of your head, into the open. This is especially important with negative emotions and discontent. First get it out, so you can deal with it. If it all stays in your head, it will occupy too much mental space, and NEVER rent space in your mind to things you do not want!
Write every day at roughly the same time. Regularity supports your mind and makes it a habit.
Do not try to be structured or organized! Be as spontaneous and silly and outrageous as you like! This is a free zone with no judging eyes.
IF brilliant ideas come to mind, of course do elaborate on them. Over time, you might want to transfer certain things to other journals, like "my strategies for success" or "my daily affirmations". But do not plan for it to happen. Your personal development journal naturally reflects your inside.
Let it happen!
---
Get Your FREE Newsletter Subscription Here!
Learn more about keeping a personal development journal from our newsletter.
We offer our readers a free subscription to "Free Inside Out" Newsletter. In it, we cover topics like goal setting, success, affirmations, inspiration and lots of other personal development tools and information.
To receive your free copy of this inspirational monthly e-zine/newsletter directly in your mailbox, just enter the information below!
You too can be an insider!
---
Leave Personal Development Journal and Return to "What is Personal Development?"
Back to Personal Development Home
---
---
                 Please pay attention!


I recommend only products that I like and I have tried out.

This is the only online business of mine and you are welcome to watch the video to learn more about online success.

Then follow the simple steps.

Hope to see you there and let´s share the journey of success!

God bless.

I, Kourosh Kavian, am a real person and you can always reach me at:


00460734056854

enerqi1@gmail.com


        Now you can join the program!



---